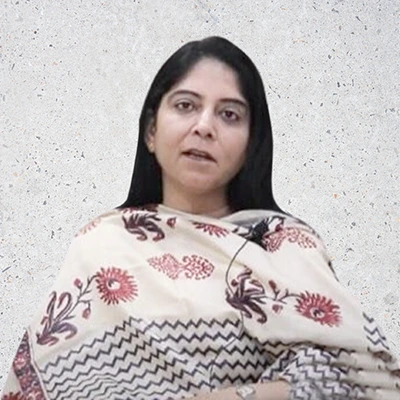 "Nothing is more professionally fulfilling than to help students learn, to build the Nation, and to create new knowledge base in EDUCATION and Women and Girl child upliftment."
"If you are self-motivated and enjoy teaching and learning, there is no better career".
Dr. Kulneet Suri - Senior Director
Dr.Kulneet Suri is presently working as Senior Director at IMS Noida, IMS-DIA under UNISON EDUCATION Society which has 11 campuses spanning across Dehradun and Noida– A well -known global professional and a HARVARD UNIVERSITY (HARVARD KENNEDY SCHOOL ALUMNI), she believes in possibilities and hard work. Apart from being responsible for Operations of the campus, she is also involved academics and in the international linkage's domain of work. She is a panel Judge for Conrad Foundation (Conrad challenge), an organization formed by NASA Astronaut, Pete Conrad (third man to walk the Moon). As a management expert at COLEMAN RESEARCH, she shares her expertise on various strategic decision-making processes and communication strategies. Her views on Mentorship for professional and personal growth have beenappreciated by HAVARD BUSINESS REVIEW AND HARVARD BUSINESS SCHOOL and she has been featured by THE LEADER'S COUNCIL, UK & THE NORTHERN IRELAND
Dr.Kulneet Suri has an illustrious track record in Higher Education Sector for over 23 years and has outstanding achievements to her credit in delivering mission critical results by her unmatched Leadership. She has simultaneously worked for organized and unorganized sectors for women and girl child upliftment.
Her career graph escalated with AIRTEL and she has there on successfully risen by handling multidimensional assignments even in the corporate sector. She has worked as Head International Operations for IEC Group of Institutions and IEC University. On joining the education sector, she has been heading all the major functions in the EDUCATION Sector at various points in time. She has successfully handled operations from inception and then led them on a high growth path through meticulous strategy, planning and execution. She has an extensive experience of 23 years of Higher Education sector, with respect to Educational Branding & Marketing, Developing Strategic Alliances, Business Operations, Media planning, Corporate Relations, Career Mentoring, Business Development, International Alliances, Branch Management and Project leadership.
Presently, she is heading IMS Noida and IMS-DIA as SENIOR DIRECTOR with its more than 65 worldwide partner institutions. She is also responsible for the development of new enterprise initiatives and all academic and research activities. She has contributed several articles in academic / professional journals on a wide range of issues related to management, organization behavior. She has also authored a book on Total Quality Management (TQM) and FIVE other books on English language. Her latest publication is Amazing English. She is working on a life based true experiences Novel "The Unforgettable". Her articles on Higher Education are consistently appearing in all the leading newspapers-PAN INDIA and some Overseas magazines. She is consistently featured in  most of the leading National dailies, magazines like Business World, India Today, Times of India, the Hindustan Times, Financial times to name a few as well as International Magazines like THE CEO, THE ENTREPRENEUR and many more.
She is a highly motivated and engaging individual whose intellectual curiosity, commercial awareness and willingness to grow has given her a strong desire to work within a strategic function. Able to provide logical solutions to complex matters whilst working across multiple projects within a fast-paced environment. Relishes new situations, working proactively within a team and individually.
 A thorough professional with extensive experience of providing both operational and strategic advice within the Education sector. She is a senior business leader with 23 years of experience in Campus building and management. She has long standing experience in delivering superior service. She is a Passionate team builder with proven ability to motivate employees, maximize productivity and control costs. She has excellent interpersonal skills, adept at internal and external senior management communications. Highly ambitious and has always achieved excellent career progression and exceptional academic standing, she has been responsible for the planning, implementation and budgeting for the college's further education marketing campaigns, the largest income stream within the business.
Her Specialties: marketing communications, agency management, brand development, event management, strategic management, social media, web editor, campaign management, staff development, stakeholder engagement, CRM implementation, publications editor, Research, press and public relations. She has extensive experience of high-level skills, student and graduate enterprise and employability, local growth and external funding environments. 
She has been engaged in high-quality research and analysis in the field of Higher Education, has always worked on research projects about the student experience of teaching and learning; widening participation; and admissions; using both quantitative and qualitative research methods. Her research has resulted in a range of outputs: a book chapter, articles, briefing papers, presentations, and reports.Senior Director responsible for strategic leadership of the Council's integrated corporate workforce, development approaches and their community learning and skills service. In addition, she is passionate about playing a strong role in supporting local economic growth through working in partnership with businesses, local authorities, ASSOCHAM, FICCI, CII, NASSCOM, CEGR, ICCI and many other key stakeholders. 
Responsible for strategically leading the development of integrated corporate workforce development approaches and acting as the Council's lead Manager on strategic learning and development issues, working with directorate services and partnerships to identify, develop and implement solutions and initiatives to create a high performing, flexible and inclusive workforce, to support organizational requirements.
She is highly skilled professional and leader with experience of managing and assuring business operations and resources in large and complex organizations, A strategic thinker able to transform strategic plans into operational solutions, An Innovator and delivers change initiatives to achieve added value and improve organizational performance in support of overarching strategies and vision; Acute capacity to link and analyze information to understand issues, identify options and support sound decision making in the delivery of support services and their improvement;
Always showcased exceptional academic and professional track record in leadership and management, having concrete experience in governance and compliance, risk management, and committee administration, an experienced Marketer with extensive commercial campaign experience gained at various desirable levels globally. Always heading up the Marketing & communication functions. Having a creative perspective, analytical approach and strong stakeholder management skills, she is considered to be an adaptable and innovative marketer with strong leadership and influencer skills who can collaborate effectively with agencies and also build internal team capability. Very well organized and an excellent communicator, she has driven her team to deliver campaigns on time and within marked guidelines.
Responsible for mentoring a team to develop an industry academia relationship and initiated creating an industry academia innovation center. She has formed an International Academic Advisory Board welcoming members from 35 Universities including ITALY, UK, Sweden, Singapore, UK, Malaysia, and some of our prominent University partners are  Nanyang Technological University(Singapore), University of Huddersfield  (United Kingdom), Taylor's University College (Malaysia), University of Boras (Sweden), University of South Albama (USA), Venice International University (ITALY), University of Derby(UK), Rotterdam School of Management (European Union), University of Milan(Italy), University of Gothenberg (Sweden), Central European University (European Union) and Janus Pannonious University (Hungary).
She has lectured at various International Universities like EDINBURGH NAPIER UNIVERSITY, UNIVERSITY OF WEST OF SCOTLAND, and UCLAN in the UK. She has also lectured at MUST (A state government university in MONGOLIA) and NANYANG in Singapore.
She has had a significant impact on the group conducting a complete strategic review resulting in a significant restructure and refocusing of the whole organization and Group as a whole. She is strongly committed to exploring new ways for IMS to do business with foreign countries. Her views about education are that "The foundation of every country, state is the Education of Youth. Education is an embellishment in possessions and a retreat in adversity. Education is not only a source of hallway in to a job. The most valued consequence of education is the ability to make yourself do the thing you have to do, when it ought to be done, distinguish whether you like it or not, it is the first lesson that ought to be learned and however early a man's training may begin in probably the last lesson he learns meticulously.
*Conferences & Research NATIONAL:
IIT Delhi—Panelist for Higher Education Perspective in INDIA
CEGR—-Panelist for Excellence through Leadership in Higher Education
CEGR—Skills for Effective Research
IIC—-Corporate Employability
CEGR—Smart Cities & Logistics
*INTERNATIONAL:
GRIFFITH College—IRELAND, WOMEN EMPOWERMENT
UNIVERSITY OF WEST OF SCOTLAND—HYGEINE FACTORS IN WORKPLACE
EDINBURGH NAPIER UNIVERSITY—INTERNATIONALIZATION OF HIGHER EDUCATION
UNIVERSITY OF LONDON—NATIONAL EDUCATION POLICY
EDUCATIUON AND INNOVATION EXCHANGE, VICTORIA STATE GOVERNMENT, AUSTRALIA
*Professional Memberships:
Executive Member of MIAE, Mongolia
Executive Member, ABE, UK
Senior Vice President- Delhi, NCR Chapter-CEGR
National Secretary- (PAN INDIA)- Integrated Chamber of Commerce & Industries.
Member of ADVISORY BOARD—KDCI, GOVERNMENT OF INDIA
Executive Member—Association of Leaders & Industries
Life time member–NHRDN, Delhi Chapter
Life Time member-IIT-Delhi Chapter
Life Time Honorary Member of (ALL)
*Major Awards and Decorations:
Co-Chairperson of Department of Girl Education-CEGR
Conferred Exceptional Women of Excellence in 2023 by Women Economic Forum (WEF)
Conferred Rashtriya Gaurav Shiksha Puraskar in 2017 by Advisor AICTE
Conferred Rashtriya Gaurav Shiksha Puraskar in 2018 by Director AICTE
Conferred Rashtriya Gaurav Shiksha Puraskar in 2019 by Director AICTE
Conferred Visionary Leader in Higher Education by Integrated Chambers of Commerce & Industry in 2018
Conferred Leadership & Innovation Award by ICCI at IIT-DELHI in the year 2019
Conferred Award for Innovation in Curriculum for GLOBAL LEARNING by UNIVERSITY OF LONDON, UK 2019
Conferred Rashtriya Gaurav Shiksha Puraskar in 2020 for higher education initiatives
Conferred Rashtriya Gaurav Shiksha Puraskar in 2021 for higher education initiatives
Award conferred by NASSCOM & Knowledge Chambers of Commerce & Industry in 2020
*Books Authored:
Total Quality Management—KTS
K+ Beginner's English—Dreamtech Press (WILEY)
K++Intermediate English– Dreamtech Press (WILEY)
K+++Advanced English– Dreamtech Press (WILEY)
K++++Business English– Dreamtech Press (WILEY)
NAINAA-THE UNFORGETTABLE(Amazon)
Featured in all leading national and international newspapers, Magazines—The Entrepreneur, The Times of INDIA, Education Times, Tribune, Deccan Herald, Mail Today, Business World, India Today
*HONORED BY H.E. Mr. GANBOLD(Ambassador), Embassy of Mongolia